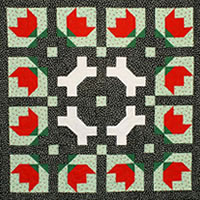 Every pet deserves to be pampered and spoiled, and what better way than with their own personal quilt. Each quilt we make is one of a kind, custom designed just for your pet. Quilts are great for keeping fur off the furniture or simply to snuggle and cuddle up in.
Most of our orders are Custom Orders, designed to match your decor or using your favorite colors, but from time to time we do have quilts already made up and ready to sell. If any are available you will find those under Available Quilts. Don't see what you are looking for? Wonder through the Quilt Gallery to get some inspiration for your Custom Order.
We do our best to find dog theme fabrics to use in our quilts, but we don't want to leave the kitties out. We can find lots of lovely cat fabrics as well. Looking for something else? Contact us and let us see if we can meet your needs. Please keep in mind that the fabrics seen in the Quilt Gallery or Available Quilts may not be available for Custom Orders at this time. But rest assured if they are not, there are always great new fabrics coming out.
If your pet is one of the lucky ones to already have a quilt we would love to include photos of him or her with their quilt on the site. Please use the Contact Form to let us know you have photos and we will get you the e-mail address to use. We always enjoy seeing happy customers ... and their people, too.